0 items in the shopping cart
---
Mikki France
Busty brunette model from the early - mid 60s who usually appeared w/ her hair in a long braid. Was Covergirl and CF of STAG PARTY #1 and CF of MR. 6/67 & TOPPER 8/62.
---
---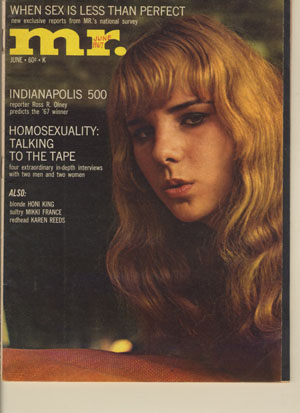 Product ID: mr1967-06d
Honi King has foldout FC + 2 pgs, Mikki France has nice 8 pg feature inc 3 pg foldout CF, Karen Reeds has 5 pgs inc 2 pg foldout. Articles about Pamela Austin (the Dodge Rebellion Girl), Tequila and the Indy 500. Bright and shiny, VG+ - has 'June 1967' neatly written in the 'R' of the title.
Read More...
---