0 items in the shopping cart
---
Anna Noble
British model from the mid 70s. Had a part in the James Bond movie 'The Spy Who Loved Me'. Was CF in MEN ONLY v40 #7 as 'Anna Parlane' - most of this photo set was also used in US CLUB 8/75.
---
Topless girl lying on beach FC. Anna Noble (was 'Anna Parlane' in MEN ONLY v40 #7) has 9 pgs inc CF. Lucy Lunn has 5 pgs as 'Alma' (last name Bradley in MEN ONLY v40 #5), Plus Jane Holman has 5 pgs, Donna has 7 pgs and Black model Lucienne Camille has 6 pgs w/ white boyfriend. Interview with Telly Savalas, The Model T Ford, a great 2pg. illo by Chris Achilleos, Milly Molly 4 pgs, Fiona in Bali and Karl Steiner 'The Booted Foot'.
Read More...
---
Product ID: game1977-07e
Covergirl is Anna Noble. Polly (in black PVC) has 7 pgs inc CF. Jeanne-Michelle and Sonie each have 8 pgs, Antoinette has 5 pgs and actress Candy Clark hhas 3 pgs. Loads of other girls w/ only 1 name or none at all. Articles about actress Maria Schneider w/ pix, Buddy Holly, mass murderer Charles Starkweather and Barrel House Bluesmen. Also a feature on famous antique autos from the movies and a 2 pg movie review of 'Vanessa'. Some normal wear, no serious efects - VG
Read More...
---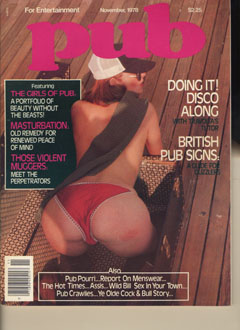 Product ID: pub1978-11d
v2 #9 - First issue since 12/77. Has 5 pictorial features of attractive models w/ absolutely STUPID names. Covergirl Pandora has a 7 pg feature in a trunk on a bridge. Nancy Suiter has 8 pg pictorial as Miss Tut. Irene Olafson shares 8 pgs w/ a girlfriend. Anna Noble has 5 pgs as 'Mother Goose'. Also 3 pgs of "Assis" color comix by Don Lomax. Bright & glossy, a few stresses, CF is detached - Nice VG+
Read More...
---