0 items in the shopping cart
---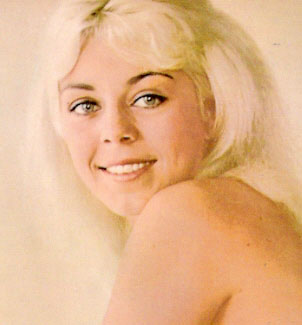 Paula Angelos-p
Attractive, busty blonde model from the mid 60s who appeared in mags such as DAPPER 10/67 w/ CF, GENT 12/65 and GENTLEMAN 6/64 w/ CF and the 1965 Annual.

There is also one photo set of a model by the name of Paula Angelus (with a 'U' instead of an 'O' - spelling is from Coquette v1 #3) wearing a jewelled tiara which was used repeatedly in early PN slicks (Coquette v1 #3, Tonight v2 #4 w/ CF and Trojan v2 #2 as 'Nelly'). These all seem to predate the apps of the girl under discussion and I don't believe they are the same girl - anybody know for sure?

Just to complicate matters, it seems that popular model Shirley Quimby has several mid 60s apps under the name 'Paula Angeles' (spelled with an 'E') - see FLING 3/67, FOLLIES 5/66 & MILLIONAIRE 8/64. Again, I don't think this is the same girl as above.
---
---
---
---
---
---