0 items in the shopping cart
---
Claire Cuthbert
British model from the mid 70s.
---
Product ID: club1976-05c
Claire Cuthbert w/ blonde hair has FC + 9 pgs inc CF as 'Annie' (same girl is CF in Man's World 10/77 under the name Penny Parker). Laurette (from 2/76 FC & 3/76) returns w/ 6 pgs and Kerry Turner (from 12/75) also has 6 pgs. Also, Fiona's first film, a 2-girl set and a couple in a car. Clive Barnes, Theater critic for the NY Times, interview, genital tattoos and a 2 pg illo (Fair Play girls) by Olivia de Berardinis. FINE
Read More...
---
Covergirl is Felice (last name Carr in MEN ONLY v41 #8) - she is CF in 9/76 & also in 1/77. 2 anonymous girls share 9 pgs inc the CF. Andi Currie (the covergirl from 7/76) has 7 pgs. Plus Jessica, Julia, Benita and Claire Cuthbert has 7 pgs w/ boyfriend in the cab of an 18 wheeler. An article on David Bowie, Fiona in Bangkok, a 2 pg illo by Chris Achilleos and another 2 pg. illo. by Olivia de Berardinis. Sort of a Mt. Rushmore w/ R. Welch, M. Monroe, Theda Bara, Mae West and Jean Harlow.
Read More...
---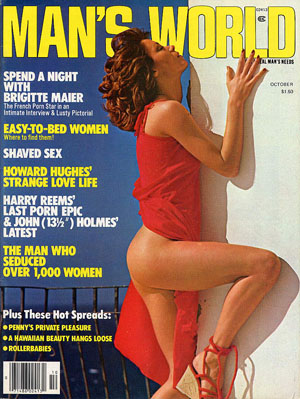 Product ID: manswo1977-10c
v23 #10 - Brigitte Maier has a 6 pg Interview w/ pics. Claire Cuthbert (as 'Penny Parker') has 5 pgs inc CF - these are pics from the same photo shoot as CLUB 5/76 (FC & CF as Annie). Uschi Digart has 1 small B&W pic on a beach wearing s safety vest. Also an article on the strange love life of Howard Hughes and another about Casanova.. Lightly read, bright & glossy - Fine
Read More...
---