0 items in the shopping cart
---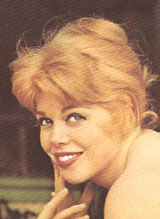 Shirley Quimby-p
Very popular, attractive, busty model appeared in numerous mags - often as a blonde but also as a brunette. Was a frequent Covergirl and/or Centerfold during the late 50s and ealy 60s (was CF of Modern Man in 8/59 and 8/60). Her popularity continued throughout the 60s (was CFof THE SWINGER 10/68) and into the early 70s w/ apps in SIR 11/70 and MR. 1/71.

Was billed as Lori Walsh in a couple issues of FLING - the last digest size issue #17 from 1960 and FLING FESTIVAL #8 FROM 1961.

She also appears to have made several mid 60s apps under the name 'Paula Angeles' inc FLING 3/67, FOLLIES' 5/66 and Millionaire 8/64. she does not appear to be the same girl as another model using the name 'Paula Angelos (spelled with an 'O') during the same time frame.
---
---
---
---
---
---
---
---
---
---
---
---
---
---
---
---
---
---
---
---
---