0 items in the shopping cart
---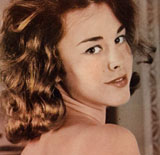 Janey Reynolds-p
Busty brunette & popular model from the mid 60s. She appeared under numerous names including Ginny Cutrone, Joanne/Janey Frawley & Marli Evans and in numerous mags from FLING & GEM to several PN titles. Key appearances include Candid Annual #1 with FC & CF; FLING 2/65 - FC & feature and Gem 5/70 FC & CF feature.
---
v12 #3 - FC has separate pics of 4 diff girls - 1 is Ginny Cutrone (aka Janey Reynolds) and another is Maureen Frawley (aka June Palmer) - they each have 2 additional pics inside mag. Melinda Allison has 4 pgs inc CF, Ruth Clark & Wanda Breck each have 4 pgs. Bobbie Carlino has 3 pgs and Brigitte Bardot has 2 pgs - scenes from the movie 'Contempt'. Article about a New York City cult 'Kerisa'. Small neat arrival date '5/1' on cover, minor rubbing along spine but bright & glossy - VG+
Read More...
---
Candy Samples super FC + 13 pgs inc CF - in white wedding gown. Janey Reynolds has nice 5 pg feature inc 2 full pg color pics (as 'Ginny') and Katrina Ferguson has 7 pgs as 'Taffy'. Fine++ copy is new, unread - just beautiful!
Read More...
---
Product ID: mr1965-11d
Janey Reynolds has great foldout FC + 5 pgs inc another 2 pg foldout as 'Masli Evans'. Con Sellers fiction 'And Pray For Rain'. Cindy Carter has 8 pgs inc 3 pg foldout CF, Donnie has 2 pgs w/ artist Earl Moran. Articles about Mia Farrow (w/ a full pg pic), Bangkok and the Newport Jazz Festival. Bright, glossy VG++
Read More...
---