0 items in the shopping cart
---
Earl Moran
---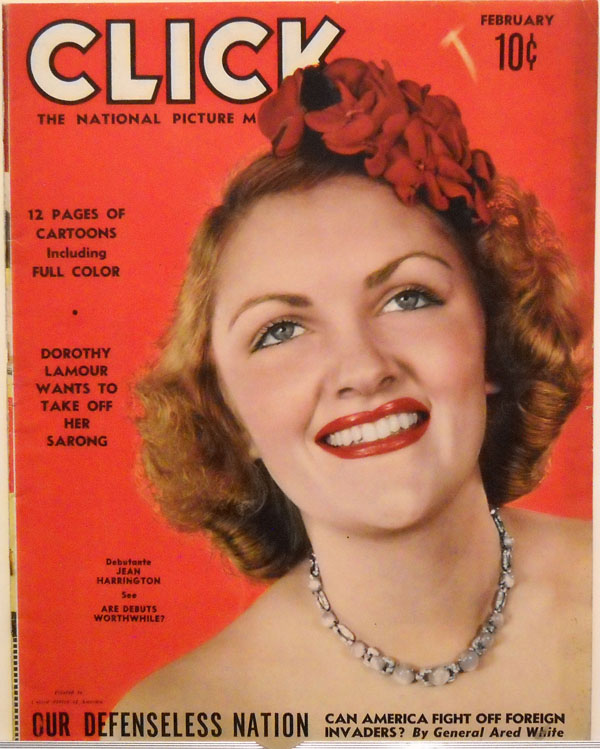 Product ID: ls-click1940-02
v3 #1 - FC of debutante Jean Harrington and a 5 pg feature article on society debuts. Pin-up artist Earl Moran has 2 pgs w/ 10 pics & illos, a 3 pg feature on Dorothy Lamour in the film 'Typhoon' and Met Opera star Gladys Swarthout has 2 pgs. Also a very long 7 pg article on 'Our Defenseless Nation', a 3 pg profile of munitions makers and a page explaining magnetic mines. Plus 3 pgs on Norman Bel Geddes, the industrial designer behind the wildly popular 'Futurama' exhibit at the New York World's Fair. Lightly read, a thin 1/2" strip of foxing on right edge - better than average.
Read More...
---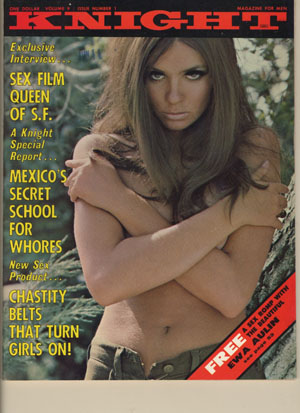 Product ID: knig-v09.01c
(8/71) Covergirl is Kathryn Dix. Charmaine Williams has 7 pgs, Diane Kane has 4 pgs and Jasmin Weaver has BC + 3 pgs. Nice 5 page feature on movie star Irene (Zorba the Greek) Papas and a 6 pg Interview w/ pics of porn star Grenda. Uschi Digard has 1 pic. Article about pin-up artist Earl Moran w/ pix and illustrations - 5 pages. Japanese chastity belts and lots more. Bright shiny - FINE
Read More...
---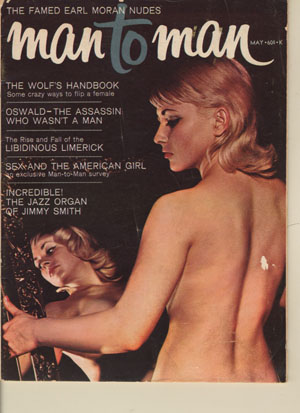 Product ID: mama1965-05e
v15 #4 - The Earl Moran Story - long feature on this popular pin-up artist w/ full pg color photo of Jayne Mansfield on ice skates and a 3 pg color foldout. Shirley Skates has a great 7 pg layout inc a 2 pg foldout, Freddie Robbins has 4 pgs and Joi Lansing has a nice full pg close-up plus Interview. Articles about Lee Harvey Oswald, Matador Ramon Tirado and jazz organist Jimmy Smith. Some wear but solid. VG
Read More...
---