0 items in the shopping cart
---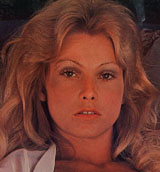 Felice Carr-p
Slim attractive blonde model with shoulder length hair who appeared in all the major titles from about the end of 1976 to early 1977 and then seems to have disappeared. Was a frequent Covergirl and/or CF but usually appeared with only a single name - different in almost every mag.
Felice Carr is the name used in the British mag MEN ONLY and is the only thing close to a real name I can find.
Was Covergirl of MEN ONLY v41.08 and had 7 pgs inc CF as Felice Carr (FC photo is same as FC photo of American CLUB 8/76). Also appeared in v42.02 (same photo set as CLUB 1/77 w/ 2 additional pgs).
Other apps include: CHERI 11/76 (as Ann), CLUB 8/76 (FC only), CLUB 9/76 - CF as Felice, CLUB 1/77 as Felice, GALLERY 11/76 - FC & CF as Anita and 3/77 - also as Anita w/ girlfriend, GENESIS 9/76 - CF as Jeannie, HIGH SOCIETY 2/77 as Ilona Smythe, and MEN ONLY as noted above.
---