0 items in the shopping cart
---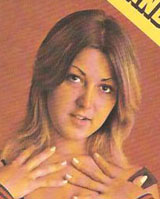 Wendy Smith-p
Busty model w/ light brown/dark blonde hair usually about shoulder length. Very popular from mid 70s to 80s but extrememly difficult to nail down an ID since she had a different name (or none at all) every time you saw her. One photo set of her leaning against a tree wearing a red culotte outfit with a giant square belt buckle and the top pulled open was reprinted in numerous mags.
She is frequently identified as 'Geraldine' from her app in BUF 10/75 under that name - that pictorial was reprinted in the issue of 9/82. She was in Gent 8/78 and the 1979 Annual as 'Jeri' and TIGER #39 as 'Anita Doyle'.
Also numerous apps in PN type slicks inc Block Busters v3 #3 w/ 8 pgs inc CF (anonymously), Showpiece v2 #3 w/ 6 pgs as 'Alano' and a very nice 9 pg feature in Tits, Tits, Tits v10 #2 as 'Laura'.
In addition she was featured in numerous foreign mags inc. Gondel, Late Night Extra, and several digest size mags from Holland inc Covergirl of one issue of Kingsize.
---
---
---
---
---