0 items in the shopping cart
---
CHERI SPECIALS
Unlike most other titles that published 'Best Of' or 'Special' issues that generally consisted of reprinted material from regular monthly issues that is NOT the case with a good number of the CHERI issues listed here. Although some of these do consist of reprinted material, some contain all new material that did not appear in regular monthly issues and still others are a combination of reprints and new material. In the case of reprinted material I have cross referenced what appears in the special issue with the original source magazine and the dates listed are those of the original source. In many cases what appears in the special issue is identical to what appeared in the original source and no other information is given. However, a significant number of the features in the special issues differ from the sources and in those cases I have noted the differences. This information applies ONLY to the photos and does not include cases where the text accompanying the photos may have been changed slightly or other inconsequential differences.

The first 2 CHERI specials were published in 1980 and they were titled 'Women In Lust' and 'The Breast of Cheri'. Beginning in 1981 the series was titled 'Cheri Collector's Edition' and numbered sequentially. The first issue from that series was titled 'Wet Dreams' and each succeeding issue had various subtitles, the most common of which was the 'Breast Of'' designation.

All of these thru Collector Edition #16 are squarebound with 100 pgs, #17 switches to a stapled spine.
---
---
---
---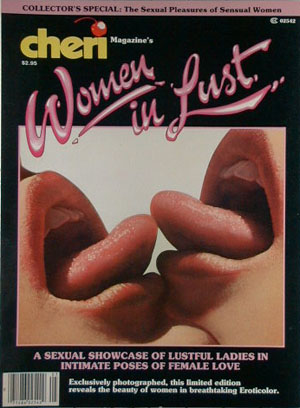 1980 - 100 pgs - cover to cover pics! All 2 and 3-girl sets - 11 diff pictorials. Loni Sanders and Laurie Smith (as Bobbi & Deborah) share 8 pgs in the back of a pick-up truck (9/80). Cherry Bomb and Brenda Dee share 14 pgs (8/79 less last pg and no poster). Sylvia & Cyrinda have 9 pgs (6/80 + 1 new pg - 1 is Piper Smith?); Jocelyn & Lorrie have 8 pgs (3/80); Marsha & Barbara have 8 pgs (4/80); Mandy, Clair & Victoria have 8 pgs (7/80); Ellen & Marissa have 6 pgs (5/80); Nancy & Caroline have 6 pgs (5/80); 2 anonymous girls in a sauna have 6 pgs (8/80). Plus Taylor & Liza have 8 pgs; Brenda & Barbara-Anne have 6 pgs - 1 is Sylvia Wright; Leslie & Laura have 6 pgs. VG+ copy is bright & glossy, lightly read, but covers have some rubbing and light scratches from having been moved around. Good copy has some heavy rubbing on FC and light warping on top left corner from moisture but no stuck pgs.
Read More...
---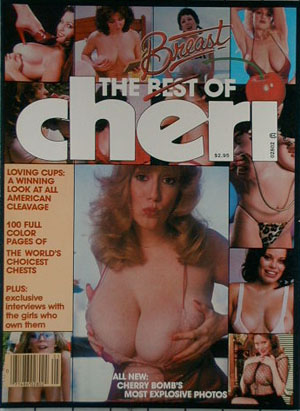 1980 - Keli Stewart has excellent 8 pg set as 'April Bodden' (4/79 + 1 new pg); Brenda Dee (9/79), Kitten Natividad (9/79) and Bambi Leigh (pics from same photo shoot as 2/80 but diff) each have 8 pgs. Cherry Bomb has 8 pgs.
Hannah Griffin has 6 pgs (7/78 less 3 pgs); Shelagh Harrison has 6 pgs (3/78 less 1 pg); Rosemary Saneau as 'Lila' has 6 pgs (3 from 1/79 + 3 diff); Carine has 5 pgs (6/78); Annie Sprinkle has 4 pgs (9/78 - 1st 4 pgs only); Lexy has 4 pgs (7/78 less 3 pgs); Camille has 4 pgs (1/79 less 1 pg); Rita has 4 pgs (9/79 less 1st pg). Dawn Summers has 6 pgs. Very bright & glossy, basically new but has some light scratches from being moved around - FINE
Read More...
---