0 items in the shopping cart
---
Roberta May Evert
Busty British model from the mid 70s. Appeared in MAYFAIR v9 #3 as 'Bobbie'. A photo shoot of her w/ Clyda Rosen in a dress shop was reprinted extensively in a number of mags.
---
---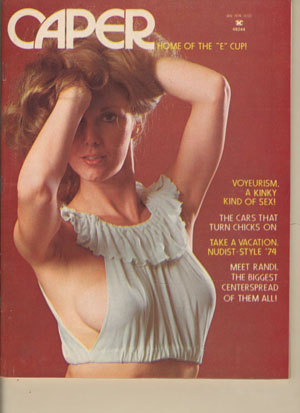 v17 #1 - Uschi Digard has really nice 6 pg pictorial as Susie. Roberta May Evert has 4 pgs as 'Leni Bishop'. Very busty Black model Randy has 8 pgs inc CF, Brit has 5 pgs and Black model Trixie has 3 pgs. Nanci & Pixie each have 6 pgs - looks like the same girl - pretty sure it's Nicky Stanton. 'Maidenhead' 1 pg color comic by Greg Theakston. FINE copy is bright & glossy, minor stress near right edge and small bump on bottom corner of BC. VG++ copy is bright & glossy, light, clean crease in upper right corner of cover and first few pgs.
Read More...
---
Product ID: gem1977-03d
v18 #4 - Great Issue! Michelle Angelo has 10 pg pictorial inc excellent CF. Marilyn Davis (aka Marilyn Brown) has 9 pgs. Black model Jet has 4 pgs (she is also in 10/81) and Roberta May Evert has 2 pgs as 'Vanessa'. Bright & glossy, lightly read, small price written on cover - VG+
Read More...
---