0 items in the shopping cart
---
Medina, Melinda Court
Very busty model from mid - late 70s w/ long reddish brown hair. Appeared in FLING 11/75 & 1/76 with this name, was Medina Conn in GEM 9/78 and Medina Count in British magazine Late Night Extra v1 #15.
---
Dina has FC + 3 pgs, Ginger Roget has 9 pgs inc CF. Angela Wright has 5 pgs, girlfriends Kathy & Renee share 8 pgs. Geri Mandel has 2 pgs as 'Maryanne' - same pics in Gent 3/80, Medina Court has 2 pgs as 'Bettina' (same photo shoot as GEM 9/78) and Delilah has 2 pgs - also the same pics as GENT 3/80. Article about the cable TV revolution plus Don Lomax - 4 pgs color comix.
Read More...
---
Product ID: flin1976-01g
v18 #6 - Big 80 pg issue has 12 pg, all color 1976 Calendar - 1 pg for 12 diff girls inc Arlene Bell, Roxanne Brewer, Penny Ellington, Shawn Devereaux, Uschi, Maya Singh and 6 more favorites. Arlene Bell also on FC + 2 pgs, Kristina Svendsen on inside FC + 4 pgs, Maya Singh has 4 pgs, Medina Court has 3 pgs and Roxy, Uschi, Shawn, Penny Ellington and Busty Russell have 2 pgs each. Articles on comedian Redd Foxx and Italian comics. Well read and a bit rough but no water or tape - Fair.
Read More...
---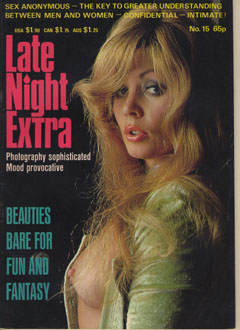 Product ID: lane-v1.15c
1975-11 - British mag from the same people who produce GIRL ILLUSTRATED (Plant News Ltd). Very nice oversize (12" tall) books, 80 pages in length. Basically all photos, many full pg, with quite a bit of color. All photos and mag in general are very good quality. All models are attractive and tend to be busty. These are full of familiar faces so you should be pleasantly surprised. This issue features 14 diff models, of which 7 have 6 pgs each, 6 have 4 pgs each and Sadie has 8 pgs - no actual 2 pg CF. Covergirl is Penny Irving.Trudy Eyre has a nice 4 pg feature as 'Lisa Shannon'. Medina Count (aka Medina Court) has 6 pgs. Kathy Welch full pg color pin-up on BC as 'Vickie Valentine'. Several other very familiar faces in this one. Very bright & glossy, lightly read - FINE

Read More...
---