0 items in the shopping cart
---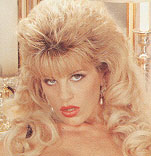 Olivia-p
Very busty blonde model and porn star from the mid 90s. Was one of the stars of 'John Wayne Bobbitt: Uncut'. Has a tattoo of a scorpion on her belly.
---
Devin DeRay has FC + 8 pgs inc CF, Sa Renna Lee and Samantha Sterling each have 8 pgs. Letha Weapons & boyfriend share 7 pgs, Andie Stewart, Mustang Sally Layd, Paris & Honey Mellons each have 6 pgs. Olivia & Ebony Ayes share 6 pgs. Plus Traci Teeze and Ruby Cheeks each have 4 pgs. Bright & glossy, some minor stresses - VG+. Have another copy w/ price written on cover plus 2 stickers on cover - VG
Read More...
---
Jesse James has FC + 7 pgs, Jay has 8 pgs inc CF. Amber Lynn + Keli Stewart share 5 pgs. Veronica Brazil, Olivia and Jasmine Aloha have a 7 pg 3-way, Kimberly Kupps has 8 pgs w/ guy on a pool table, Julie Juggs has 7 pgs. Black model Helen has 7 pgs, Rosie & Melisa each have 6 pgs, Delilah Sampson has 5 pgs. John Wayne Bobbit Interview & pics from video 'Takes Manhattan'. Fine copy is very bright & glossy - lightly read. VG+ copy has bump at top of spine and 2 stickers on FC.
Read More...
---
Product ID: vid-tgtshots73
1999 - Wave Video (a division of Vivid) - 4 hrs. Comp tape of random scenes featuring all the current stars. Partial list inc Paula Price, Misty Regan, Lili Xene, Olivia, Tiffany Million, Bionca Trump, Kylie Ireland, Anna Malle, Dyanna Lauren, Alexis Deville, Cannibal and many more!
Read More...
---