0 items in the shopping cart
---
Louise Ohlsen
Popular brunette model from the late 80s- early 90s. Appeared in numerous European mags, frequently in the British mag PARADE - was Covergirl of #117 and CF in #124, also in #155 & #188.
---
---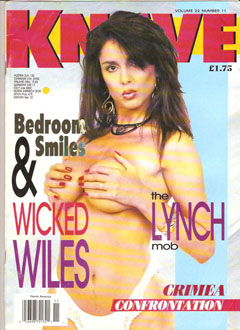 Product ID: knav-uk-v22.11d
1990 - Good issue! Covergirl Sarah has 6 pgs inc CF. Louise Ohlsen has 6 pgs as 'Gemma', Ashley Rene has 6 pgs as 'Dorothy', Kiss? (aka Sharon Brady) has 6 pgs and Trine Michelson has 5 pgs as 'Trixie'. Plus Carly, Julia Jane and girlfriends Jackie & Jill each have 6 pgs and Marianne has 5 pgs. Feature article on film maker David Lynch and an article about military heroes who were awarded the Victoria Cross. Bright & glossy, top left corner slightly soft - VG+
Read More...
---