0 items in the shopping cart
---
Ann Besant
---
Big 84 pg issue loaded w/ goodies. Suzanne Germaine close-up FC. Kellie Evers (Everts) has very nice color BC + 4 pgs inc CF. Anne Besant has inside FC + 6 pg feature, Jeanne Sharp has 5 pgs, Vicky Kennedy inside BC. Also Harlan Ellison fiction 'Enter The Fanatic: Stage Center', excerts from The Satyricon Pt 6 and articles about bull fighting and Natchez, Miss. Very sharp, clean, birght copies.
Read More...
---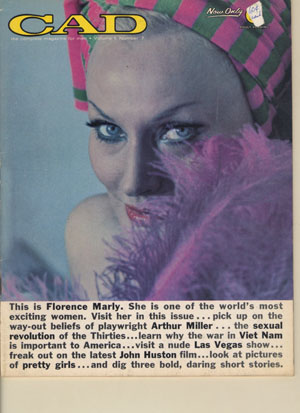 Product ID: cad1967-03d
v1 #7 - Actress Florence Marly has FC + Interview (she was blacklisted from Hollywod as a Communist). Kay Poorboy has 5 pgs inc CF, French fashion model Amanda has 5 pgs and Anne Besant has 2 pgs. Plus a feature on Vegas Showgirls, an article about Vietnam 'Death in the Jungle' and another about author Arthur Miller inc a pic w/ Marilyn Monroe. Harlan Ellison has 1 pg review of records. Small price sticker in upper right corner but Sharp, glossy VG+
Read More...
---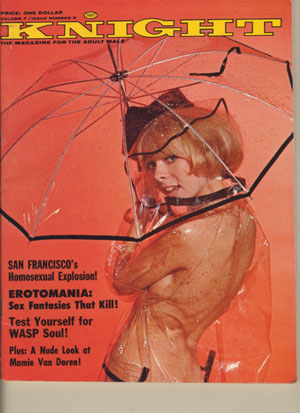 (6/69) - Lynn Breeden (was in 11/67) FC in clear plastic raincoat and umbrella. Mamie Van Doren has 5 classic pages. Anne Besant, Bobbie Helms, Lorne Mitchell & Susan Walters have 4 pgs each. Cara (aka Carol) Peters has 3 pgs and Uschi is on BC - you can't see her face, she is standing with her back to you, wearing a pair of white lace panties and unfastening her bra in front. Fiction by Raymond Friday Locke 'River Inn Interlude'. Article about C.B.N. - chemical-biological-nuclear warfare. VG+ copy has slightly soft bottom right corner.
Read More...
---